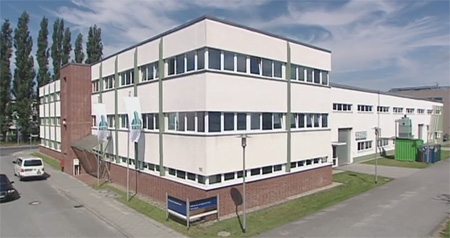 FMB has its production headquarters and main offices on the grounds of WISTA, the Science and Technology Park at Adlershof, in the south-east of the German capital, Berlin.
Since October 2007, FMB Oxford, the former Oxford Instruments Synchrotron Division, has also been part of the company.
Since it was founded in the autumn of 1990, FMB has developed into a successful, high end provider of equipment for research with synchrotron radiation.
We provide professional management for the entire development, engineering, production, testing and installation – all from one single source.
Analyses and physical calculations such as optical ray tracing, strength and thermal load calculations, made using the latest computer science, form the basis of innovative and reliable products.
In its 4,000 square metre office and production space, the company develops and manufactures the most diverse range of components and systems for synchrotron storage rings using state-of the art design and manufacturing technologies. And it also has sophisticated testing facilities at its highly efficient production plants.
Complete vacuum systems, front-ends and beamlines for synchrotron radiation: these represent the company's core business. Over the last few years, a range of quite different methods for using this radiation in research and industry have led to increasingly specialised equipment technology.
And especially for vacuum chambers, monochromators, slit systems, mirror systems and diagnostics, FMB is your partner when it comes to competence and efficiency.
The development and production of custom equipment and components for other ultra-high vacuum applications and for precision mechanics are also considered to be among the company's other main business areas.
Our engineers and technicians are always setting themselves new challenges, and go right to the limits of the technically feasible.
Getting internationally-respected experts actively and heavily involved in the development and testing of our products ensures that the latest scientific findings are available and also that there is a good understanding of the needs of our customers.
Production is done at our own location or at reliable cooperation partners with constant supervision by the responsible FMB project manager.
FMB's all–inclusive package includes:
• Comprehensive consulting and support for the project preparation phase.
• Close collaboration with reputable external researchers and experts to help us develop the best possible solutions
• advice on and development of design studies and technical specifications
• Development, design, manufacturing and testing at FMB
• Assembly and testing of manufactured devices and units at the client's desired site of operation.n
• Round–the–clock customer service geared to the needs of the client
A staff of some 70 highly qualified professionals invest their experience and skills to develop state–of–the–art products from stand–alone components to whole storage ring vacuum systems or beamlines.
A team of experienced project engineers will take responsibility for the practical fulfilment of your entire project.
FMB project management uses modern management tools to provide a comprehensive servicespackage, including:
• Planning and coordination
• Contract management
• Financing
• Quality management
• Progress control
• Reporting
We also incorporate the services of external consultants and institutions for selected project tasks.
As a means of extending and further complementing our own scope of performance, we enter targeted alliances and partnerships with other firms who can be usefully integrated into our projectmanagement work.
Development and design is at the heart of FMB's activities. And here, teamwork is the company's core philosophy.
In the initial phase of each project, the employees bring their wide-ranging knowledge and experience into play.

Following this, the development and design of all the components for the vacuum systems and beamline is undertaken on high performance CAD workstations.
We have a number of different CAD systems are at our disposal, enabling us to cater to a variety of customer needs.
The development work includes our own analyses and physical calculations. And doing so, we always ensure that the latest developments are given due consideration.
Optical ray tracing as well as stress and thermal calculations form the basis for the development and improvement of the latest technical solutions demanded by our customers.
FMB's High Quality Standard!
The quality requirements of our customers enjoy the highest priority in our quality assurance system.
FMB quality management has been tested and certified in accordance with DIN ISO 9001 every year since 1997. Quality-related processes, activities and specifications are described in detail in the FMB quality management manual for customers and employees.
Our products and measuring equipment are monitored and tested both by our own quality assurance department and also by independent external organisations.
Measurement, inspection, testing and calibration data is documented clearly and made available for our customers.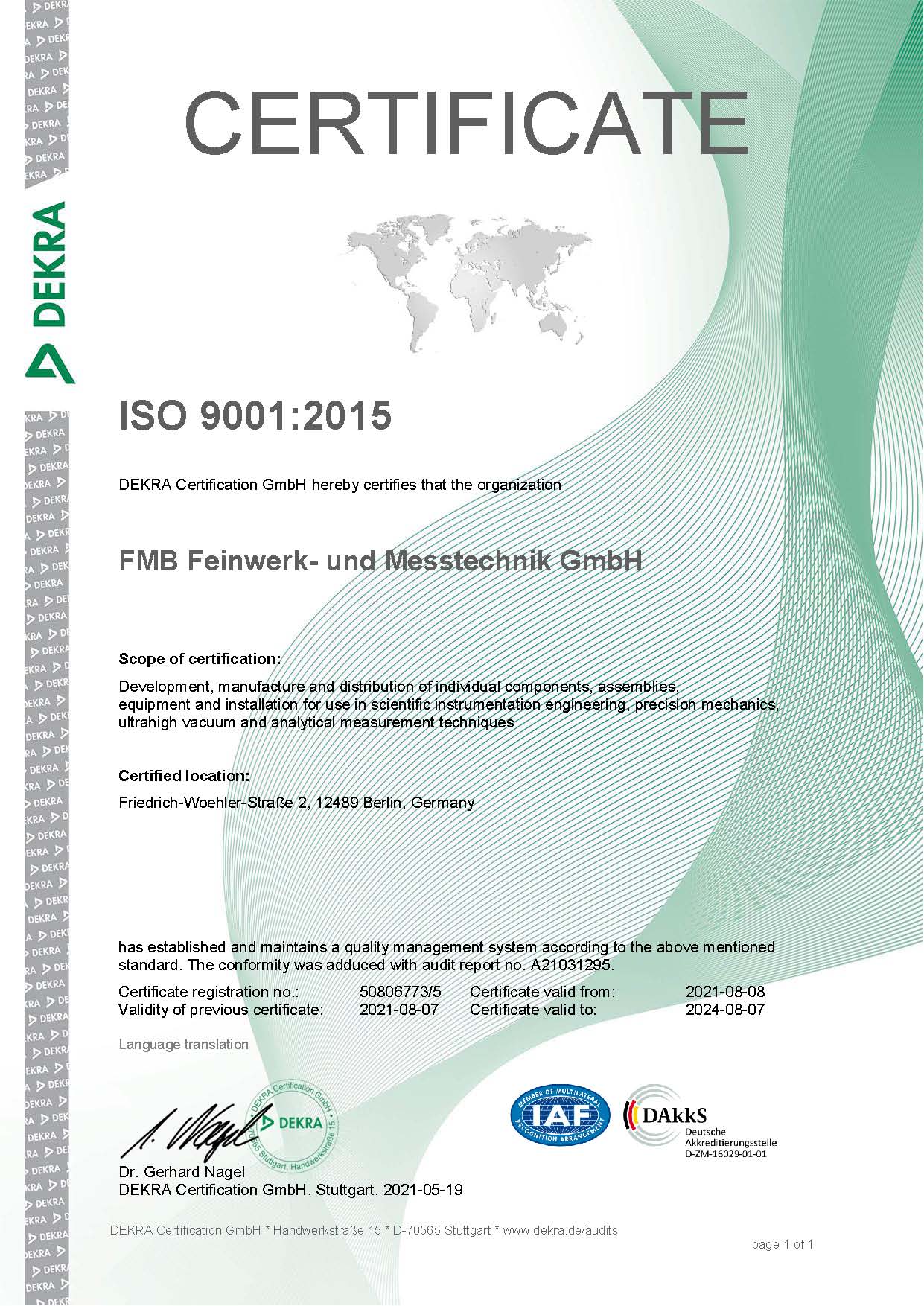 Mirror Chambers
Infrared Front Ends
Beam Position Monitor Station
Vacuum Chambers for BESSY II Storage Ring
VUV Polarimeter Experimental Station
Vacuum System for ANKA Storage Ring
Beam Line Diagnostics for ANKA Storage Ring
Front End for Beam Lines
Complete Hard-X-Ray-Beam Line (SUL)
Beam Line Components
Complete Beam Lines (SINS, ISMI)
Double Crystal Monochromator for INDUS
Vacuum System for Swiss Light Source Storage Ring
Front End Components
Beam Line Components
Vacuum System for Canadian Light Source Storage Ring
Apertures
Vacuum Components
Vacuum System for the Storage Ring
Vacuum System for the Storage Ring
Vacuum System for the Storage Ring, Beam Line Components, Vacuum Chambers
Beam Line Components, Monochromators, Vacuum Chambers
And many more !